Hi there. I'm Roxine. A little bit about me: I'm currently in my 4th year, heading into my fourth and fifth co-op terms at Ryerson University's Business Technology Management co-op program.
Throughout my past 3 terms, I've used unconventional strategies and tactics to land my positions and now, after teaching friends about it, I'm here to teach it to you!
I've been blogging for a bit now and initially, this guide was a request from a reader (A fellow student who just got intothe  co-op program.  Just landed his first job. Congrats, Saad!).
Whether you're a first-time co-op who has never had a full-time job or you've had a few months of work under your belt, I'm confident that you can learn a thing or two from this.
Have fun and enjoy!
P.S. Before you read, you should really sign up for my newsletter below – over 1,000 other ambitious students are already reading it every week! In my weekly emails, you'll learn the ropes on conquering life and getting the success that you want. You'll also get lessons about becoming more productive, getting better grades and becoming a more charismatic person! Now, who doesn't want that? 😉 Sign up below and I'll be in touch!
How to Land Your First Co-op Job, Step-by-Step
---
First off, I'm writing all of this with a few assumptions of your situation:
You are a Canadian co-op student The Canadian education and co-op system is different from the US and many parts of the world, though the principles I teach are applicable to finding any job, anywhere!
You're going for a summer co-op. Work terms start and end throughout the whole school year but, generally, there are two rules of thumb with regards to full-time student job applications:

Start applying for jobs 4-5 months before your starting date.
Start building relationships and preparing for the job hunt at least one month before you start applying (so at least 6 months before your start date. I started mine 7 months before.)
Week 1: Figure out the position you want to go for.
---
Before you even do ANY resume and cover letter stuff, DO YOUR RESEARCH FIRST.
See, job-hunting and dating are very similar.
Before you even think about dating someone, you have to know yourself first. You have to know your need-to-have's and nice-to-have's. You have to at least have an idea of what your deal breakers and your I-can-live-with-that's are. Pursuing a relationship with someone… But not knowing what you want, is a recipe for disaster.
It's exactly the same thing with jobs: Most students simply go on to company job boards and blast out their applications to any position they see, as long as they're qualified for it without taking into consideration if they'd actually be a good fit for the position once they land it.
Friend, just like with dating, you have to know what you want first, before you can go after it.
(Caveat: I'm not saying that you have to know exactly what you want, but having a little bit of an idea of what a position entails, such as how long a typical workday is, whether a designation would be helpful, or how much compensation you can expect, can reveal if a position could be a good fit for you or not.)
So. Here are a couple of solid strategies to get you started on learning about a position you're interested in:
1. LinkedIn. Go up to the search bar and type in the specific job title you're considering or are interested in. Take a look at 4-5 profiles of professionals. Take note of which companies have that roles, the kind of work these people are doing (in the job descriptions from each person's online resume), how these people's careers progressed, etc.
2. Job-specific resources. Search for forums or blogs where these professionals congregate. The key is to read the exact stuff that these professionals are reading. This is how you get into their heads and figure out how they think and what they think about their jobs. More importantly, you get a feel for what kind of people would do well at this job.
Here are some resources I've used in my own research:
Tips:
You're trying to complete this sentence: "I want to be a (job) because (reason 1) , (reason 2) , and (reason 3)."
Start picking up on industry language. What words do you see often in people's job description? What are some buzzwords you notice in the blogs? This is a little trick that reaps big rewards down the road when you start on your application and do your interviews.
Take note of companies that offer the job you're interested in. This is helpful when you get started on Week 2 and also to see the breadth of opportunities that this position has to offer, if you choose to pursue it once you graduate.
Remember: This is only the first step. Your research doesn't have to be perfect. This is simply an exercise to pique your interest so you know what questions to ask down the road.
Don't be afraid to make mistakes with your job research or even to land the "wrong" job. That's what you're in co-op for – to test things out.
Estimated Time: 3 hours.
Week 2: Figure out the company.
---
Now that you have a bit of an idea on what jobs you want to try out, it's time to form the second half of the question: The company.
Start checking out LinkedIn again and categorizing companies into 3 Groups:
First Choice. These are your dream companies. Companies that you would consider working for when you graduate or companies that you've always thought were cool to work for.
Second Choice. Companies you're kind of meh on – not super excited but also not a NO. These are places that you kind of feel that you wouldn't want to work for but want to try out none the less because, hey, why not?
Last Choice. These are places that you're 90% sure you wouldn't want to work in… But they offer the role you're into. This category is here just so you're aware of as many workplaces as possible.
For your first co-op job, aim to do research and apply for 2-3 Second choice firms and maybe 1-2 First choice firms.
The reason for this is because you'd want to do some practice – both in applying for jobs and at working in a professional environment.
After you've picked your firms, do some preliminary research:
What's their vision?
What industry are they in?
Who are their competitors?
How do they set themselves apart from their competitors?
Company websites and a Google News search helps with this.
One of my first mistakes was that I categorized a bunch of smaller, lesser-known companies into my second choice firms and bigger, more established companies to my first choice. My rationale was that, it's easier to go from big to small, than small to big.
Tips
You're trying to complete this sentence: "I want to be a (job) in (specific company or type of company)."
Looking back, I wish I didn't because bigger doesn't equal better… But hey, like I said, it's ok to make mistakes.
Estimated Time: 3 hours.
---
Before you go on: Do NOT, I repeat, do NOT skip weeks 1 and 2 even if they seem "easy".
They provide some essential foundation for Week 3 because, how can you make a good impression on a busy professional when you ask them out to coffee to "pick their brain"… And ask them a question that can be easily found be 20 to 30 minutes of googling?
If you do this, you're wasting their time and yours!
To make sure you make a good impression, do a thorough job at online research before moving on to this step.
Go on, I'll wait.
---
Week 3: Do Informational Interviews
---
This is my favourite step because now your really start getting into the weeds and putting yourself out there.
Take note thought, that this the scariest and most time-consuming step that most people skip. This is when you actually (shudder) have to talk to people.
But DON'T SKIP THIS because this step is the most crucial one. Why? Well because,
This is how you get your foot in the door and immediately stand out to employers, without being sleazy.
This is when you can confirm or debunk your research and get the inside scoop if a job or a company is a good fit or not.
BONUS: This is a research step can also be called Networking 101. Plus, practicing with informational interviews is also good practice for when start being interviewed for jobs. This is a great way to get your feet wet without getting too disappointed by rejection.
Let's be clear, though: These interviews are purely informational.
DO NOT ASK FOR A JOB.
Do not go into these interviews expecting to get a job. If they offer to pass on your resume, get on your knees and thank the heavens, but don't walk in expecting this because you have a higher goal to reach in this interview – you're essentially talking to them to help you figure your life out… So don't mess it up.
Seriously.
Now that that's clear, start by gathering a list of 15-20 professionals from LinkedIn, networking nights or mixers at school, personal contacts, etc. The only criteria is that they must…
A. Have or used to have the job you want.
B. Work for the company or used to work for the company you want to be in.
Once you have your list… Take the following 3-step approach to netting informational interviews.
1. The Outreach Email.
Email is an art form in itself and I can probably write another 5, 000 words on how not to be a douche or an egghead when you send emails… But I don't have space for that. Instead, here are some tips on sending out emails for interviews:
Make it easy for them to say YES to you by…

Proposing a short time frame to meet, like 15-20 minutes.
Giving 3 time slots that you are free. Try to include 1 all-day option.
Offering to meet wherever is convenient for them. Give an option to do the interview over email or the phone, too, whatever's convenient for them.

Keep it conversational, while being professional.
Keep it short and sweet. 5 sentences max if it is a cold outreach (as in, you found them on LinkedIn and were not referred to them by a mutual contact).
Send out emails on Monday or Tuesday. This is when most people's inboxes are still relatively clear.
Below is a sample email I've sent (names and details changed) to reach out to a warm contact. It incorporates all my tips from above:
2. The Meet up.
To repeat what I mentioned before, this is a time for you to see if the job and company would be something you would be interested in. As with Weeks 1-2, look out for key company, industry-related or job-related phrases you can learn and drop in your interviews.
Also, prepare smart questions beforehand. My favourite interview questions are:
What qualities does a successful [insert job title] look like?
What is the biggest thing you are working right now? (Ask them to explain any unfamiliar terms or acronyms if they use them.)
What's your favourite/least favourite part of the job?
Do you think you'll still be a [job title]/at [company] in 5 years' time? (Ask this only if they are closer in age to you, or you have a close enough relationship to them that you feel comfortable asking this question.)
Don't hesitate to bring a notebook with your questions and to take notes with. Don't take notes on your laptop or worse, your phone.
And be early, like 5-10 minutes early.
3. The Follow Up.
One of my favourite bloggers, Ramit, calls this The Closing the Loop Technique. It goes something like this:
Same Day: Short thank you email. Say something like, "I really liked what you said about XYZ…"
1-2 weeks after meeting: Send them an email with a tidbit that adds value to them, like a blog article or an insight that relates to something you talked about.
3-4 weeks after meeting. Send them a quick update on your job hunt, ideally with an action you took as a result of your conversation. End off with, "If you think of anyone who might be able to help, please let me know!"
Tips:
Don't just keep this to Week 3 – keep connecting with people and continue to set up 1-2 interviews a week until you start applying. Aim to have between 5-10 informational interviews with different people before the job board opens in January.
Don't be discouraged if it didn't seem like you didn't do as well as you wanted. This takes practice! It took me at least 2-3 initial interviews with people I knew well before I felt confident doing it with acquaintances and strangers.
I even had a notebook with my questions in the earlier ones! Talk about nerdy. But I believed in genuine relationships, trusted the system and stuck with it. By the end of December (the month before I started applying), I had spoken to (and followed up with!) about 10-15 different people. That was the time period that really grew my current network.
Being an introvert is not an excuse. Heck, I'm an introvert. It's hard… But ya just gotta put yourself out there and do it.
I save all the outreach and follow up emails I've sent so it's more efficient to reach out. But I triple check an edited email before I send it so that it's still uniquely tailored to each professional.
As students, we actually have an easier time getting meet ups than professionals because we seem harmless and innocent. Just like little bunnies, when industry professionals see us, in their mind they go, Aww, they're so cute and eager. Let me help them. Take advantage of your lowly status. Plus there are SO many school-sanctioned, networking events that most people skip out on or totally bomb. Take advantage of these, too!
Finally, just like with dating, rejection is part of the game. If someone says no to you, thank them politely for their time and move on. You are not entitled to a meet up; no one is expected to say yes to you unequivocally. Harsh but true.
Estimated Time:
3 hours to search for people and set up interviews.
15 min to 1 hour per interview.
1 hour to setup follow up sequence.
(Yes, this step is the most work. But it pays off!)
Week 4. NOW, you write your resume and cover letter.
---
Let's step back a bit.
As you can see this is a pretty counter-intuitive thing – to do your resume and cover letter last, rather than first. But remember disproportionate results?
By now, if you've done everything step-by step, you will have completed 80% of the work up front… And the benefits are already on their way.
With that word of encouragement, let's jump into…
Your Cover Letter
Here's a little tidbit that my co-op advisor shared with my co-op class:
The goal of cover letter is NOT to land a job – it's to get an interview.
With that in mind, here are some cover letter tips to help you write yours:
Make sure it paints a unified and clear picture – what you want your prospective employer to have of you. ("Amazing co-op student who is flexible and eager to learn!")
Think of this as a one-page ad of your services, so the key question is, What do you bring to the job or company? ("Insanely good at Excel! Thinks fast on their feet! Can interact well with clients!")
Make this is as interesting and intriguing as you can, that they would want to pick up the phone and call you! ("For a limited time only, you can hire me for a position, starting date in the first Monday May. Pick up the phone now and call me at 1-800-JOBLESS. Hurry before somebody else does!")
Now, here is a concept many applicants get wrong:
Your cover letter is NOT the same as your resume because it is NOT chronological!
Instead, use the TMAY Framework with the Storyteller Strategy.
TMAY stands for Tell Me About Yourself – one of the most common (and banal) interview questions ever asked.
The wrong (but most common) response is a verbal-vomiting of your entire life story in the order they they happened (which, tbh, can get long and rambling and is probably banal, too).
Instead of this approach, for your cover letter, use the TMAY Framework where you pick 2-3 qualities you possess that show that you are the best-suited candidate for the job. Use these qualities as the building blocks for your cover letter.
Finally, to further illustrate just how right you are for the role, use The Storyteller Strategy . Basically, tell one story per quality to show (not tell!) that you know what you are talking about.
(More on both techniques later in the interviews section.)
Again, keep in mind that this is NOT about your life story. This is about what YOU can do for THEM.
This is what The TMAY Framework + The Storyteller Strategy looks like in practice:
Quality 1: I can work well in a team. OR I am a team player.
Story: It was my swim coach's birthday and our club had a tradition of throwing the birthday celebrant into the pool after practice. Problem was he was a really heavy dude, like 300 lbs.
(R: Kon, if you're reading this, you know I'm making this up… You are the fittest old man I know.)

Now, as a girl, I don't usually participate in these; it is the boys who do the tossing. But it just so happened that day that not a lot of guys were at practice. And so in the end, to help them out, I helped the guys lift him by the arms and legs, swing him once and toss him into the pool.

I was the only girl in the history of my club to every do it and it also was one of our club's most successful birthday tosses.
What's in it for the company: I work well in a team and bring great people skills to the table. I can take one for the team if need be.
And that's one paragraph in your cover letter.
You can probably think of a better example than that (and make it more professional and not use "dude") but you get my point. Add a couple more and you'll be done!
Finally, if you have a contact in the company (which you should, after all the work you did in Week 3), ask for their permission to mention them in the cover letter. If they agree, mention them in the intro paragraph.
Your Resume
Now there are A LOT of great resources out there on how to write a great resume so I won't be covering that here. Instead, I'll go over some resume essentials and then a few pointers as your create your resume.
The Resume Need-to-Have's:
Contact Info (Name, Address, Email Address, Phone Number). I usually put this in the header and have my resume + cover letter in one document. This way, my contact info shows up on every page.
Relevant Experiences. Assuming that you've never had a full-time job before (i.e. 40 hours a week) this includes any part-time work, volunteering and extra-curriculars you do.Put in the position, company and/or department, time period that you were there for, plus 2-3 bullet points on what you achieved in that position (NOT a rehashing of what you did there).
Education. Which school you go to, the time period and your program. Don't abbreviate the program name because people won't know what those 3 letters stand for! For example, write "BComm. In Business Technology Management" versus "BComm. In BTM".
No need to put in the high school you went to, unless maybe you went to a school that had some sort of prestigious program (like the IB program).
A word of encouragement with regards to the relevant experience section: Don't worry about not having work experience as a first-time co-op.
Before my first co-op position, I had never worked for pay in my entire life, not even in retail or as a cashier in No Frills!  My experiences section was so bare that I had to include my achievements and "relevant experience" as a competitive swimmer.
(Putting my swimming actually produced some surprisingly good results: One lady who interviewed me had a son who swam, too. We bonded over the horrors of waking up at 4:30am to go to practice… And she ended up offering me the job!)
With regards to length, technically, resumes (and cover letters) should be no more than two pages… But that rule also applies to industry professionals that have 40+ years of work experience! Since you are just starting out, keep your resume to one page.
If you have some more space in your one-page resume you can include these Nice-to-Have's :
Your GPA. Put this under your program name but only if it's at least a 3.5 (or if you are particularly proud of your GPA). In my experience, most employers don't care about the GPA on the resume, although a copy of your transcript is usually required for co-op applications.
Relevant Courses Taken. If you've taken any job-specific courses, this is another good way to make yourself stand out. Put in the course names, not the course codes.
For example, "Database Management and Design" vs "ITM 500" (because, just like your program name, no one outside of people who are in your school would know what that jumble of letters and numbers means).
Achievements. Try not to put any high school achievements if you can help it, although special awards with big names are great here (like DECA, the Duke of Edinburgh award, etc.).
For example, my resume contains an entry for an award I received in high school from the University of New South Wales in Australia, and that has raised more than a few interviewers' eyebrows.
And some overall tips:
Use strong, active words to start off each point. Some examples include: organized, executed, planned, grew, produced, implemented, impacted etc.
Using numbers is a great way to get people's attention.  In my first internship, I grew the company's Twitter account from 56 followers to 150. I included that in my resume even though I felt that it's not all that great.
Use The Storyteller Strategy here, too. Just make it more concise by trimming each story down to 1-3 sentences and talking about…

The action you did ("Proactively gave out fliers from the street corner…")'
The results you achieved ("And consistently brought in 3 clients for the company…")'
Plus the time frame you did it in, if applicable ("every day one afternoon").
Finally, no need for objectives, related skills, hobbies and any other extras some Elite Daily or Buzzfeed article may tell you. Simply focus on using your resume to continue painting the picture so that the HR person will be interested enough to schedule an interview.
Tips:
Write out everything in plain English before you make it sound more polished. If you can't say it in plain English, this means you don't understand it well enough to explain it simply in an interview. Don't put it in.
In the beginning, use The Masters Technique for efficient applications: Create a master resume with all your internships, volunteering, achievements, courses in it etc. Don't worry about length. Same thing with your master cover letter: feel free to include 5 or more qualities + stories. Again, don't worry about how long it is.
Then when you need certain entries and qualities for a specific job, just copy and paste as needed from your master file before tailoring the content to the job posting. Easy-peasy.
Try to include industry or job-specific jargon or keywords that you understand. This little tip shows that you know more than the average candidate and are ready to hit the ground running when hired.
Use simple formatting. 1-inch margin all around. PLEASE don't use Comic Sans or Wingdings. Go with safe fonts like Time New Romans, Cambria or Calibri, with font size 12-14.
Estimated Time: 2 hours each for resume and cover letter. 4 hours total.
Then, once you've done all this…
Keep Doing Weeks 3 and 4 until the jobs get posted and you start applying online.
---
Once you start applying…
Tailor your cover letter and resume to each company and each position. If you use the Masters Technique, this shouldn't be too hard.
And remember, focus: Apply only to positions that you have done online or in-person research on. And, preferably, in companies that you have a contact in.
---
Congratulations, you got an interview!
If you've come this far, then you don't have to worry about this step… Because all of the previous work you've done researching and interviewing was already part of the preparation for this interview.
All you have to do now is show all that research – that you know about the company, that you're familiar with the job (enough to know their company or industry buzzwords!) and that you ARE the right candidate for the job.
For this step I'll be focusing on the last point: You need to show that you are the candidate with all the qualities that are on the job posting (mostly hard skills), including all the qualities that are NOT on the job posting (soft skills)!
Sound impossible?
It's not as hard as you think.
If you've done your research correctly, you should be familiar with all the hard skills and at least a couple soft skills. All you have to do, is SHOW IT.
But before I get into this, here is…
What You WILL NOT Do
Come to the interview cold, i.e. "I'll just wing it. YOLO." (No. Bad. Not. Professional.)
Talk about your whole life, including when you were cast to be Tree #2 in the school play back in 5th grade. (Boring. Not relevant.)
Talk about random strengths ("I'm good at math.") and weaknesses ("I work too hard."). (Just… UGH.)
If you come unprepared and start rambling, this is what will happen:
The interviewer leans back. "So, tell me about yourself."

No smile.
Cue your face locked in a frozen smile as your life flashes before your eyes. You start telling your life story from fetus days.
The interviewer's eyes glaze over and he falls forward on his desk in sheer boredom.
GAME OVER
To avoid this, you need to pull out The TMAY Framework, The Storyteller Strategy and my KO punch – The Backpocket Question…
The Tell Me About Yourself (TMAY) Framework
To elaborate on the previous section's description, the TMAY Technique uses the Tell Me About Yourself interview question as a springboard for the rest of your interview.
You can also use your TMAY answers to help you think of answers to other common interview questions, like "Tell me about a time when you worked in a team." and "Tell me about a time when you made a mistake."
Instead of listing out your achievements chronologically, you carefully select the three qualities that you know the employer is looking for and rehearse those.
Some examples of good TMAY qualities are:
I am unafraid to ask questions.
I think analytically and logically.
I learn quickly and hit the ground running.
This technique is great because it continues to build on the picture that your cover letter and resume helped create in the beginning and, hopefully, cement your place as the ideal candidate for the job.
Then compound the TMAY Framework (how to structure your interview responses) with The Storyteller Strategy below (how to keep the interviewer engaged) for a one-two punch!
The Storyteller Strategy
One word to keep in mind as you prepare to do your interview: STORIES.
Tell story upon story to illustrate and back up every point you make, because you are not their only interview of the day.
Even if they are already tired from interviewing previous candidates or they are still dreading the long day of interview, use stories to arrest their attention and make it fun and easy for them to listen to you.
BOOM.
As humans, we also naturally gravitate towards people who tell stories, because they seem more interesting, charismatic and confident. (That's you.)
DOUBLE BOOM.
When I focused on stories in my first (albeit, mock) interview, the guy interviewing me was so engaged that he told me afterwards, "Oh, wow. I didn't even notice the time. I was so interested in what you had to say!"
(I should also mention that he helped me get my first co-op term at the biggest bank in Canada where he worked. Needless to say, all the hard work to prep for that "mock" interview, that probably no one else paid serious attention to, paid off. Thanks, Matt!)
So here is how you do The Storyteller Strategy:
Before the interview, think about stories that best showcase your three TMAY qualities. Again, this is your response to the initial "Tell me about yourself" question.
Then, pick one of the three to use as your "What's your biggest strength?" response. Ideally, use a different, but more compelling story. (You've lived what, 18, 19 or 20 years on this planet? You gotta have more than one story of your biggest strength.) Even more ideally, think of a story that shows you displaying this quality in a team environment.
Pick an honest weakness that you have been trying hard to fix. Please don't say "I work too hard", "I care too much" or something like that. That is not honest. Some 100% authentic answers I've given to this question (which, is another thing that will make you stand out):

"I don't take enough initiative." (But here's a story of me working on it.(
"I've never had a job before so I might be unprofessional." (But HERE'S A STORY OF HOW I'VE BEEN LEARNING ABOUT STUFF TO HELP ME FIX THAT.)
"I'm not very good at communicating." (But HERE'S A STORY OF HOW I'M FIXING IT AND LOOKIT, I'VE GOTTEN BETTER.)
I can't stress this enough: You want to show your personality, likeability and and your competence.
To sum up, The Storyteller Strategy requires that you have some understanding of the other person. Just like in the emails, you have to make it a no-brainer for them to say yes to you by showing them that you have what they want.
You also understand that everything you do and say from the moment the interviewer sees you is fair game. So you tell stories to keep them engaged while carefully tailoring EVERY ANSWER you give to the image you want them to have of you when you leave.
Then, after use The TMAY Framework and The Storyteller Strategy on every question and you the interview starts winding down, here's where you really deliver.
This is the icing on the cake.
This is the secret sauce.
Pure interview magic.
I call this one…
The Backpocket Question
Now without this technique, this is what usually happens after the behavioural questions:
Interviewer: "So, do you have any questions for me?"
This is when everyone thinks the interview is over.
This is when every other candidate relaxes and says, "Nope, thanks for the interview!"
But this is when you…
Hit that freakin' baseball out of the ballpark like Joey Bats himself.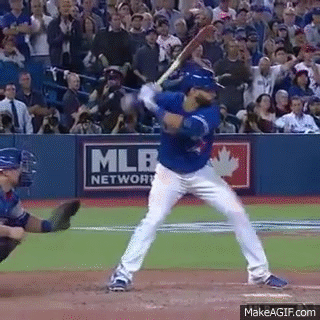 You, figuratively pulling out your Backpocket Question, ask:
"If I were to get the job, what should I do to prepare so I can hit the ground running?"
BOOM. BOOM. BOOM.
Instead of saying no, you ask a question…
One that is specially designed to show the interviewer that you are thoughtful and knowledgeable and that you are already think far ahead of anyone else.
Here are some Backpocket Questions I've used in the past:
Historically, what are the qualities of someone who has done well in this position?
What is the difference between COBIT and COSO? (For an accounting firm.)
What is the difference between IT architecture and infrastructure? (For a business systems analyst position.)
Try to think of your Backpocket Questions beforehand. Industry-specific questions, preferably from the job description or about something you talked about in the interview, are great choices.
If you can't think of anything on the spot, turn the tables and ask about the interviewer – how they got to where they are, what they do, etc. Use those informational interview skills!
Now, with The TMAY Framework, The Storyteller Strategy and The Backpocket Question, this is what almost all of your interviews will look like:
The interviewer looks down at your resume and leans back. "So," No smile. "Tell me about yourself."
You smile at them, and talk about the three qualities you possess (complete with funny stories!) that make you absolutely perfect for the job.
Interviewer's eyes widen and they start nodding and agreeing to everything you say.
You know that they are (mentally) salivating over you as a candidate. Man, they are LISTENING now.
They ask some more behavioural questions… As they wrap up the interview, they ask, "So, do you have any questions for me?"

You say, "Yes, actually. I was wondering, what are some qualities that successful co-op's in this position have had in the past?"
Their eyebrow goes up. They're a bit taken aback, pleasantly surprised by the question. But then they start talking about someone's who's not afraid to questions and someone who is a team player, etcetera, etcetera. You start taking mental notes and nod along.
When you get up to leave, the interviewer shakes your hand with a huge smile on their face. You smile back.
As you walk out of their office, you turn to the audience, raise your chin, and…
Tips:
Remember the 80/20 principle: 80% of your results will come from 20% of the effort. Focus on The Storyteller Strategy and your Backpocket Questions.
Plan to arrive 20 minutes early. Don't be late. If you're late, you are late.  Leave home two hours earlier if you have to, especially if you've never been to the interview location. No one cares about interruptions to the subway service.
Don't be afraid to ask the person you're emailing about dress code and other details. Apart from the confidence knowing that you'll be dressed appropriately, this shows that you're not afraid to ask questions (a PLUS in any co-op employer's handbook). If in doubt…
Dress in business formal (except if it's a startup). What's business formal? That's a topic for another post but there's lots of example on Pinterest: Search "business formal for men/women" and go from there.
No need to bring a resume (unless you know for sure that it's going to be a panel or group interview). The interviewer should already have your resume. In all my co-op interviews, I've never been asked for it once. (Remember the 80/20 rule? Don't sweat the details. You have bigger things to worry about.)
Practice your interview at home if you've never had experience in public speaking. This is pretty key if you getting up to speak in public scares the heck out of you. You'll also be able to adjust some body language issues you may have. For example, most girls smile too much while most guys don't smile enough.
Try to make the interviewer laugh or, at least, make a connection. Contrary to what you may believe, interviewers are human, too. They're not just looking for someone who knows their stuff but someone they can spend 8 hours a day with. So be cool, relaxed and engaging.
What do you do after an interview?
Make sure to send out a thank-you email within the day, preferably 2-3 hours after the interview. This shows that you value the interview opportunity, that you are thoughtful and that you know how to finish things well.
This is one of those little things that can help you stand out because most people don't do it.
Once you hit Send on that email, consider this the end point for this particular job application… CONGRATULATIONS!
Lean back and take a breath.
You've done absolutely everything in your power to increase your chances of getting that job.
The outcome isn't in your hands.
Whatever happens past this point isn't in your power anymore. So don't fret about it.
Though you're probably going to do this whole process on more than one interview (and you should apply to more than one position, especially if this is your first term!), let yourself feel a bit of relief and pride because you finished the application.
Again, congratulations. 🙂
Dear New Co-op's – What We Wish We Knew When We First Started
This EPIC post is almost done… You're almost to the end!
Before I send you off, though, I wanted to feature some advice from some of my friends – current, senior co-op students who may have just started on their journey OR who have done at least a couple co-op terms already.
I'm doing this because we want you to know that you're not alone… We're here for you!
If we can get through that tough first term, then you can, too.
I wish someone told me how much of a commitment 8-month work terms are. They are a significant amount of time to invest and can feel like a decade If you're not interested or challenged by the work you're doing. Try and aim for 4-month work terms while you're still dipping your toes in the water. – Rhyan

---

You should prepare for the mock interview, because you can actually get a job out of it. I thought it was just practice. – Ryan

---

An interview is a two way street, it's an opportunity for you to get to know the employer much as it is for the employer get to know you. – Oleanne

---

Apply as early as possible for positions where you are responsible for directly applying to the employer e.g. On their website. Often, the deadline date for those positions are the just the [PlacePro] unposting date. Hiring managers may start looking at applications and selecting interviewees much earlier than that date. Waiting till the last minute could result in missed opportunities. – Teresa

---

(1) Wish I figured out earlier to abandon the 1990s job application methods (searching through job boards, submitting resume applications) and started early on guerilla-job-search methods (targeting hiring managers and reaching out to them directly).
(2) Joined professional associations that are in my target careers early on in year 1-2 instead of now in [my] last year. I'm a member of the 32 Signal Regiment and Toronto Amateur Radio Club but those [are] closer to my old career. Now I'm just starting to get into volunteering for the Project Management Institute Toronto chapter and looking for associations for analysts and developers that I want to get into. – Bil

---

Don't be afraid to be picky (if you can). Instead of shooting of resumes everywhere to land whatever you can, create a spreadsheet and add specific jobs that you're interested in. The sheet could be used as a schedule as well, so you know which deadlines are coming up instead of just going to PlacePro [R: That's Ryerson's co-op job board.].

Also be ready to track your progress (how many places you applied to vs how many interviews you got). – Saljoq

---

Landing your first coop position can be challenging since many students have very limited work experience. As a result I highly encourage new coop students to attend many information sessions, and join varies student groups to obtain the valuable work experience necessary to obtain your first co-op placement. – Ejaz

---

What I wish I was more aware of [when I first got into] coop was how much work and dedication was required… I think being more aware of the stresses prior to the application would have helped.  I would say do not overthink on offers. Don't pay too much attention to what other people have said if you take certain jobs… I would still encourage people to continually keep an open mind because what you originally had in mind for work can change. – Dennis
Oh, and one last thing…
Most of the time here at Defy Gravity, I write about time management and productivity for students.
(In fact, I'm currently doing a series on using the Scrum project management framework to help run your life better and produce better quality work in less time.)
So if you've been following the blog, you're probably wondering:
So what does a post about landing your first "real" job have to do with productivity?
Apart from teaching you about landing your first "real" job (which is HUGE springboard for landing a full-time position after graduation), my other aim with this post is to show you what it really means to be effective over efficient.
Think of this whole dream job process as a real-life case study that you can do to learn this principle, and the long-term thinking required to achieve disproportionate results.
Think about it: Being able to send out 100 resumes within the span of two weeks is a HIGHLY EFFICIENT process… But is it EFFECTIVE?
It may be incredibly gratifying to hit that Submit button when you finish the application on a company's website, but is this the best way to make yourself stand out, get noticed and, ultimately, get booked for an interview?
I wouldn't say so.
On the other hand, taking the time to do your research and interviewing people before you even look at your resume is, admittedly, very unconventional.
Like most of the stuff in this guide, most people just don't do it.
But that's precisely why the students who take the time to actually learn about a position and a company, before they even think about applying, are the ones that end up succeeding and rocking their co-op terms.
So, when you're going through this process, you may feel like you're not getting enough stuff done.
You may not get the initial results that you're looking for (i.e. Being able to say (or brag!) that you sent out 70+ applications.)
But if you do the right things before you think about doing less work , you'll achieve disproportionate results and win.
I guarantee it.
Good luck!
Liked this post? I've got more coming.
Make sure you don't miss my free practical and motivational posts on productivity, careers and success every week.

Don't wait. Join over 1,000 brilliant people like you and start going for your dreams... Even if you're still in school.